Sterling Woodworking is Michael Sterling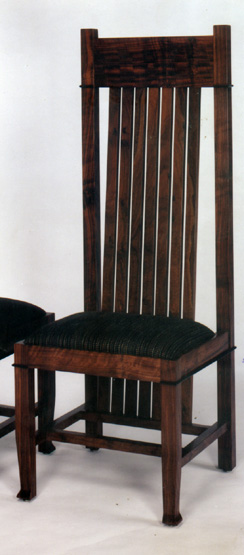 Michael Sterling has been making custom, studio furniture for 30 years. He has shown in numerous galleries and shows, calls himself "obsessed" with one-of-a-kind furniture. Sometimes art-furniture, but always practical, ergonomic, and well-made. His pieces can be found in the homes of many private collectors, but he is probably most proud of his pieces in the Oakland Museum and Renwick Gallery of the Smithsonian.
One distinguishing characteristic about the new generation furniture makers is their use of exotic hardwoods. Sterling is no exception. In fact, he goes so far as to actually cut and mill the trees from which most of his work is made. This is a concept inspired by Ernest Joyce and the poetic books of James Krenov. Additionally, Krenov's inspirational writings keyed Sterling's use of bookmatching and custom-designed handles and pulls.
Sterling lives in Chico, California. Coincidentally, there are these magnificent Claro Walnut trees there. So for over 20 years he has been harvesting these trees and specializing in that lumber – world renowned for its beauty.
Glance through the gallery to see his use of ebony, rosewood, figured maples and cherry, crotch woods, feathers, and the like. Sometimes solid, sometimes veneer, whichever is appropriate.
Among the most common pieces he is asked to create: dining tables, entryways, executive desks, credenzas, conference tables, entry tables and accent pieces, coffee tables and curio cabinets, chairs, beds……Some pieces are limited-production, others are one-of-a-kind.
Other features:
Wide range of unique hardware, custom-made or rare handles and knobs.
Hidden, secret compartments.
Integration of glass, leather, chrome, brass, woven fabric, etc.
Custom, exotic veneers or veneers sliced from his stock
Finish: most pieces are oiled, lacquered with alcohol and moisture-resistant semigloss lacquer, and hand-rubbed.
Though small-scale, and mostly a one-man operation, Michael Sterling has networked for the last 30 years; and he has accessible to him turners, carvers, finishers, and upholsterers who are also masters.
Galleries
Contemporary Crafts, Portland, OR
Real Mother Goose, Portland, OR
Fine Woodworking, Sausalito, CA
Highlight, Mendocino, CA
Walter/White, Carmel, CA
Gallery Fair/William Zimmer's, Mendocino, CA
Cory's, Chico, CA
Chico Museum, Chico, CA
Juniper Gallery, Napa, CA
Starey-Sheets, Los Angeles, CA
Banaker, San Francisco, CA
Tercera Gallery, Los Gatos, CA
Mind's Eye, Scottsdale, AZ
Claudia Chapline Gallery, Stinson Beach, CA
Vagabond Rose, Chico, CA
Museums
Oakland Museum, permanent collection
The Renwick Gallery of the Smithsonian, permanent collection
Shows
Apr 2004

Right at Home, Renwick Gallery, Smithsonian

Sep 1998

Wood Art Collectors' Conference, San Francisco, CA

Jan 1997

California Design, San Francisco, CA

Aug 1996

CCCA Master/Apprentice Annual

Nov 1995

Chico Open Studio Tour

Nov 1994

Chico Open Studio Tour

Aug 1994

California Design '94

Nov 1993

Chico Open Studios Tour

Nov 1992

Chico Open Studios Tour

Jan 1992

California Design, San Francisco, CA

Sep 1990

Woodwise, Juniper Gallery

Aug 1990

Benchmark, National Invitational, Gallery Fair

May 1990

Chico's Walnut, Chico Museum

Nov 1989

Chico Works in Wood

Aug 1985

Western States Invitational, Gallery Fair

May 1983

Butte County Fair

May 1983

Working with Wood, Fort Mason, CA

May 1982

Mendocino Woodworkers Invitational

Aug 1981

Pacific States Crafts Fair

Feb 1980

Forestry Center, Portland, OR

Oct 1979

Timberline Lodge Invitational